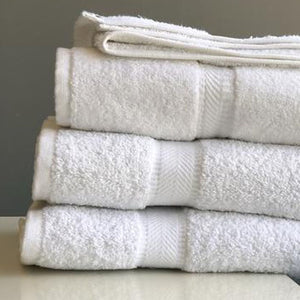 Product: Dobby Border Towels - Hand Towels
Dimensions: 16x30"
Weight: 4.5 lbs
Content: 100% Ring-Spun Cotton
Color: White
Quantity: Select form Menu 1 dozen (12pieces)/5 dozen (60 pieces)/10 dozen (120 pieces) per pack
Brand: Eurocale
Dobby Border Hand Towel, 16x30", 4.5 lbs weight, white color, best for use as a Manicure and Pedicure towel in beauty salons and spas.
Eurocale brand, 90% cotton, 10% polyester, 100% Cotton, Ring Spun, Dobby Border and bleached white. These towels are durable, long lasting, super soft, fast drying and absorbent cotton.
These 16"X30", 4.5# towels can be used for manicure in salons, spa, nail bars, beauty salon, tanning salons and massage centres.
These 90/10 cotton rich blend premium towels are soft, super absorbent, fluffy ,thirsty and machine washable. They do not lose their texture after multiple washes
Available for immediate delivery.